I have made some PCBs that will make interfacing with the Logitech PCB from a Driving force wheel and the Sega steering panel (eg. Sega Rally) much easier.
IMG_3548.jpg
The small PCB is a 3 wire to 4 wire converter, as the gear shifter on the Sega panel had 3 wires connected to it.
The idea was from here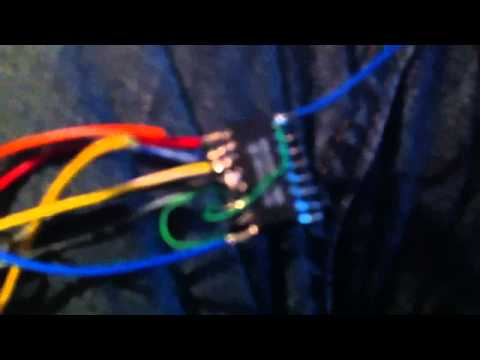 The small PCB is now incorporated into the larger PCB in the photo and connected to the L1, L2, R1 and R2 inputs.
These can be assigned as A, S, D and F for Model2 emu etc. in the Logitech profiler software.
The large PCB replaces this group of PCBs that are from the Logitech steering wheel controls and uses the same plug in wiring.
IMG_3547.jpg
Thanks goes to David_AVD for the idea of using Reed relays. By using the Reed relays it isolates the Sega panel from the diode matrix
on the Logitech steering controls so there is no ghost keys pressed etc.
For the inputs on the PCB you just solder a wire to the key that you want and then connect it to a button on the Sega panel eg. Start and Change view.
You could connect up the coin mech as well.
IMG_3545.jpg
The 3rd PCB is just for testing it has all the buttons on it but also could be mounted somewhere for FE menu navigation.
The D9 on the board is for plugging in a Sega Mega drive controller for FE menu navigation too.
The rest of the photos are of the other parts of the L2M2 setup. Note the IPAC, when I started the project that is what I used. The new board above
used with the Logitech profiler software will replace the IPAC. I used two separate boxes to keep the all mains in one box and the low voltage in the other.
Out of the boxes are matching Molex connectors to suit the plugs and sockets of the Sega steering panel.
The MeanWell 24V power supply (IRM-30-24ST) is used in place of the plugpack that comes with the Logitech wheel.
The top most PCB is a Pac Drive for use with Ram_Jet VR software to control the lights on the panel.
IMG_3543.jpg
IMG_3536.jpg
IMG_3535.jpg