Well my Black Knight is finally almost done. This has been a 2+ year project from start to finish with just a few more things to do before I consider it finished.
I purchased this Black Knight from the USA in non working condition. The price was right, but the deal almost fell through due to some miscommunication, but that's another story (And thread). The game was shipped out of Florida and arrived about a month later. I unpacked the machine to finally see exactly what I had bought. The Playfield was dirty and had a lot of ball swirl, but in better than average condition. The back glass had typical flaking, but wasn't too bad over all (7/10). The cab itself was in fair condition and inside was just dirty as all hell. All the boards were complete, but would need re-building. For some reason I always seem to find a US penny in every machine I import, and Black Knight was no exception
Here are a few pictures taken on the day I got it home.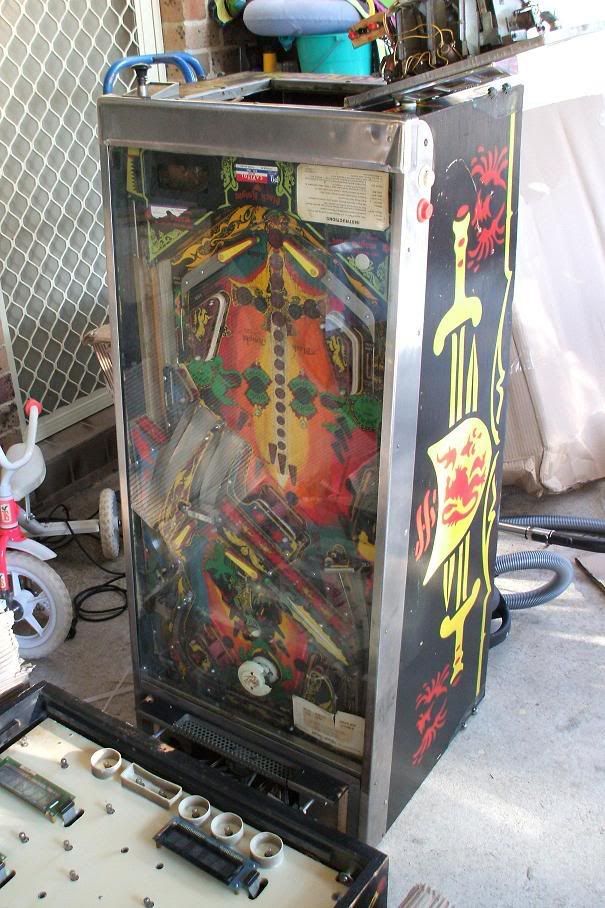 I moved the game inside and that's where it sat until I found time to get to work on it.
Once I put the game up on legs I opened it up and decided upon the best course of action to get this game back up and running. The main CPU board had some damage, so I decided I'd look for a replacement first. A quick PM to Tony at the Pinball Shed had this sorted straight away. The replacement CPU arrived with a remote battery holder fitted, and the board itself was in very nice condition (Thanks Tony!). I have since repaired my origanal CPU and will keep this as a spare.

Removing all the boards from the back box one by one.
Yuck, what a mess!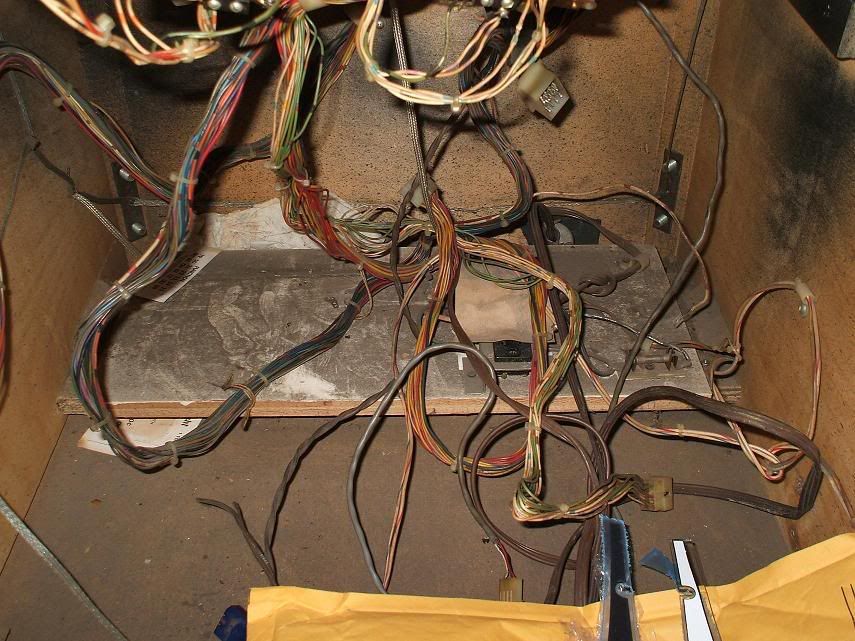 I decided I wanted to go the hole hog with this Pin, as Black Knight has always been a Pin I've wanted since 1983. It was while I was working at the Big Top in Sydney that I fell in love with this Pin. It was the most modern Pin in the place in 83 and saw a lot of action.
My next step was to make a list of all the parts I needed. At this stage CPR had announced that they would be making new playfields and plastics, so I put my name down for these. I also decided I would fork out the extra money and buy one of the limited edition Silver playfields (I got #17). I also decided I wanted to try and find a new back glass. Mayfair Amusements still had new glasses available, but wouldn't ship outside the USA. A quick conversation with Wayne and I soon had my back glass on it's way to the Pinball factory in Melbourne in one of his containers. This was a good opportunity for a mini holiday to Melbourne with the family, so we packed up the car and had a great time enjoying the sites around Melbourne. I also had the chance to see Game On whilst I was there, so this worked out great. Special thanks to Wayne for letting me ship the glass over!!
The brand new glass ready to be fitted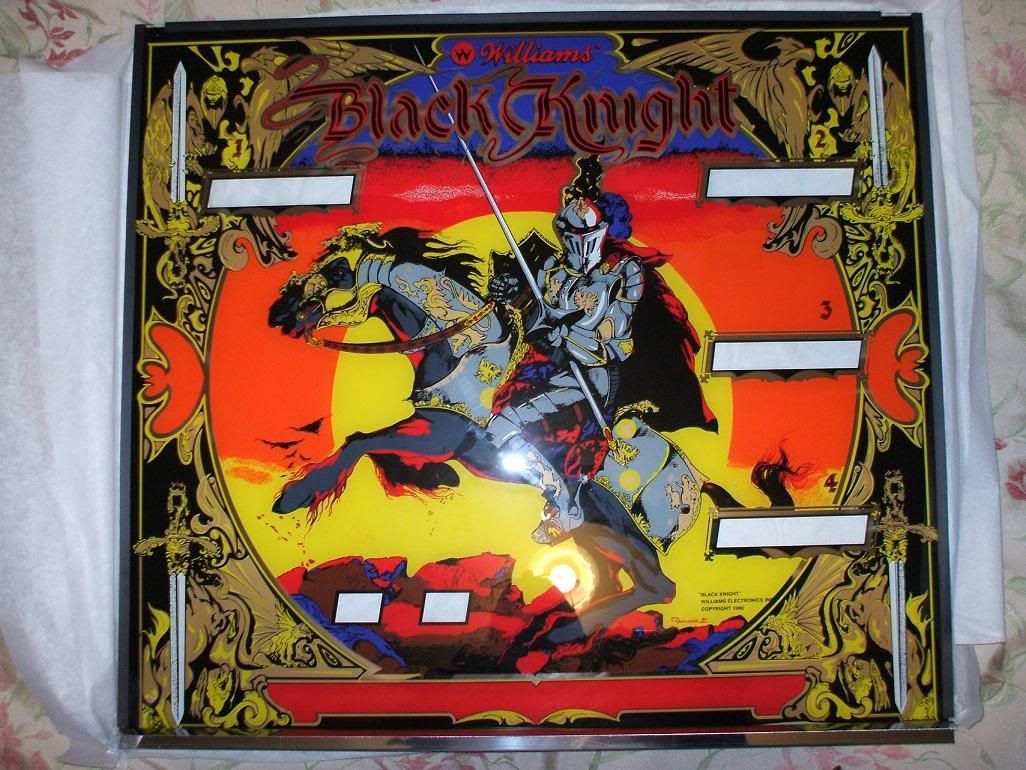 All the other parts I'd need were ordered over the following year and carefully stored until needed.
As this machine had come from the USA, I had to re-strap the transformer and replace the varistor to suit 240VAC. This game had been hacked with a few bodgie repairs by someone (Notice the 50V flipper coils!)
Next came a partial re-build of the power supply. I also did the fuse mod for the bridge rectifiers (Which were replaced).
New capacitor, rectifiers and fuse mod added
I then fired up the game minus the displays. There were a bunch of non working globes, switches and coils. I didn't attempt to start a game at this stage.
Powered up, but with issues.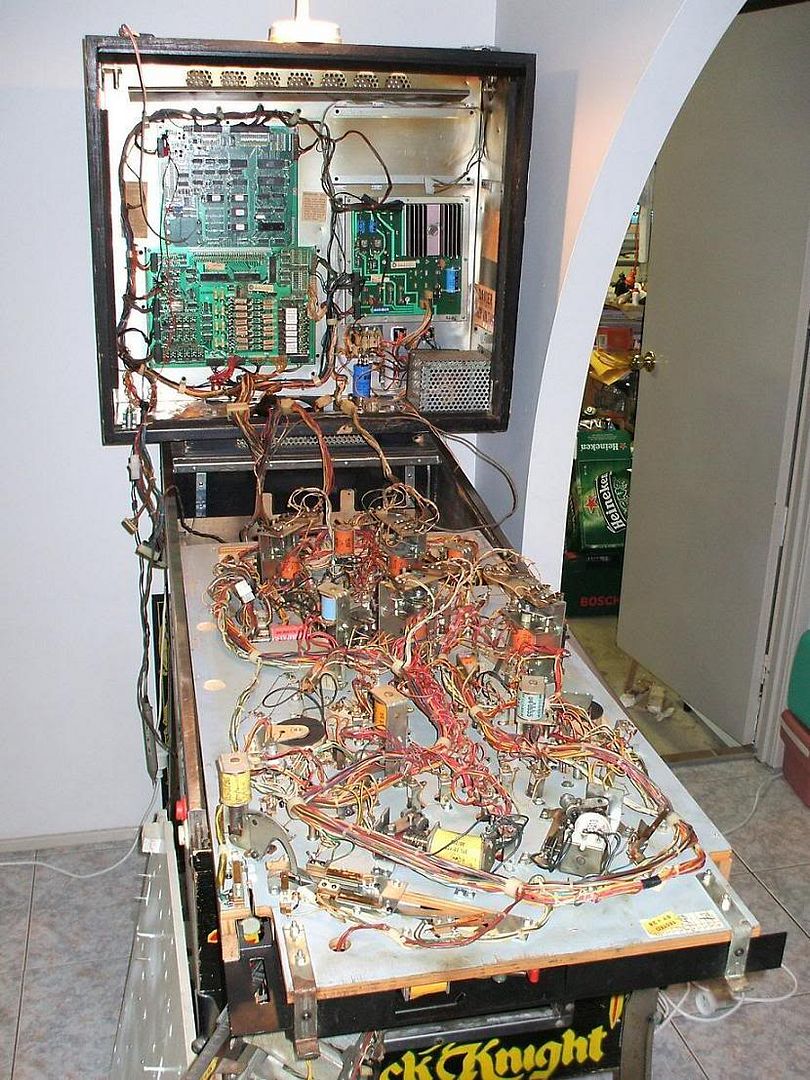 The game was disassembled and I began working on the boards.
All the old round pin Molex connecters were cut away and replaced. The CPU/Driver board connecter was also replaced. I also removed the wiring harness and gave this a wash. I burnt a new set of roms for the CPU board and sound board. The sound and speech boards were also fully rebuilt with new caps and IC sockets.
The cab was stripped, repaired and sanded with a belt sander and painted ready for the new decals. As I was putting in a new playfield, I decided I would apply decals rather than re-stencil the cab. I thought it would better suit the new playfield which had newer inserts, hence the reason I'm calling this project a re-build over a restore.
The sanding and repair stage.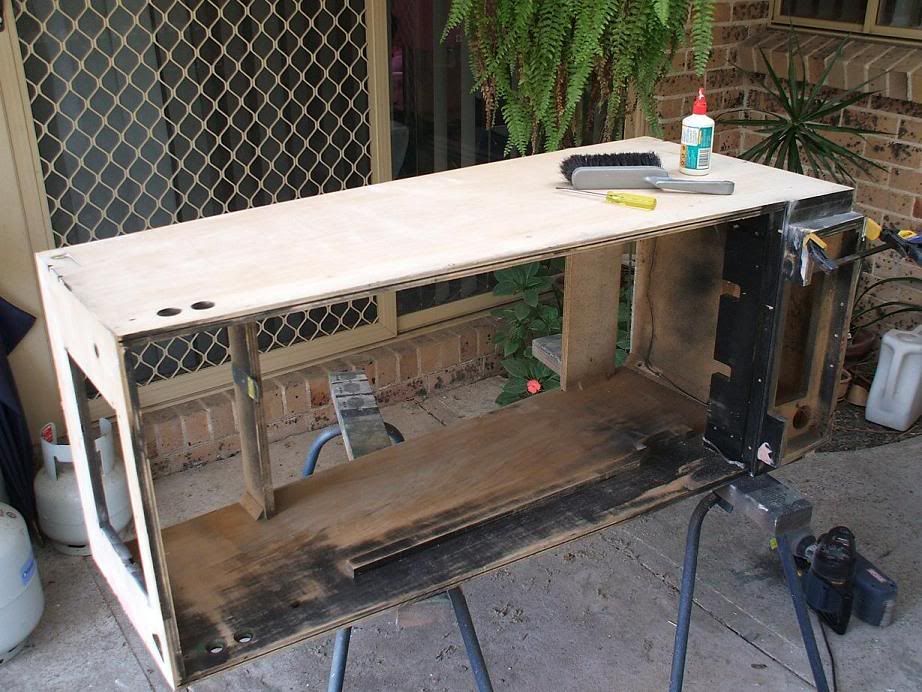 Mark (Shock and Awe) and Ryan (LOTR4U) happened to be applying new decals to some cabs as well, so seeing I hadn't re-decaled a Pinball before, I asked Mark if I could bring my cab up for some decaling lessons. I had seen the results of Marks Pins he had done previously, hence my eagerness to get his help. I have applied a fair bit of sideart and control panel overlays in my time, but I was eager for this to go right. Fair Dinkum Dan provided the transport (Thanks Dan!) and with Mark's and his wife's help, the decals were soon applied. Mark sure has this technique down pat and I was very happy with the results. One of the decals did have a few small creases due to the separation of the backing paper during storage, but this has since disappeared. Thanks Mark for all your help with this!!
The cab after it arrived home with the new decals fitted.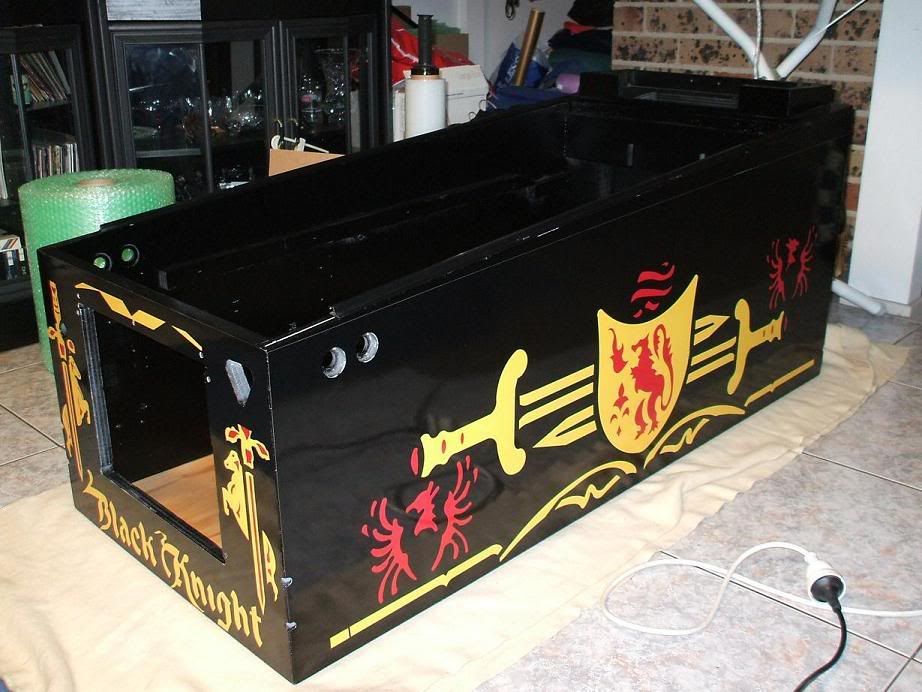 I reassembled the cab with the rebuilt boards, fitted new legs and prepared to get to work on the playfield swap. The side rails were cleaned and re-grained and put back on the cab. I had looked into getting new side rails made, but decided the old rails came up fine.
Up on legs with some of the cab hardware fitted.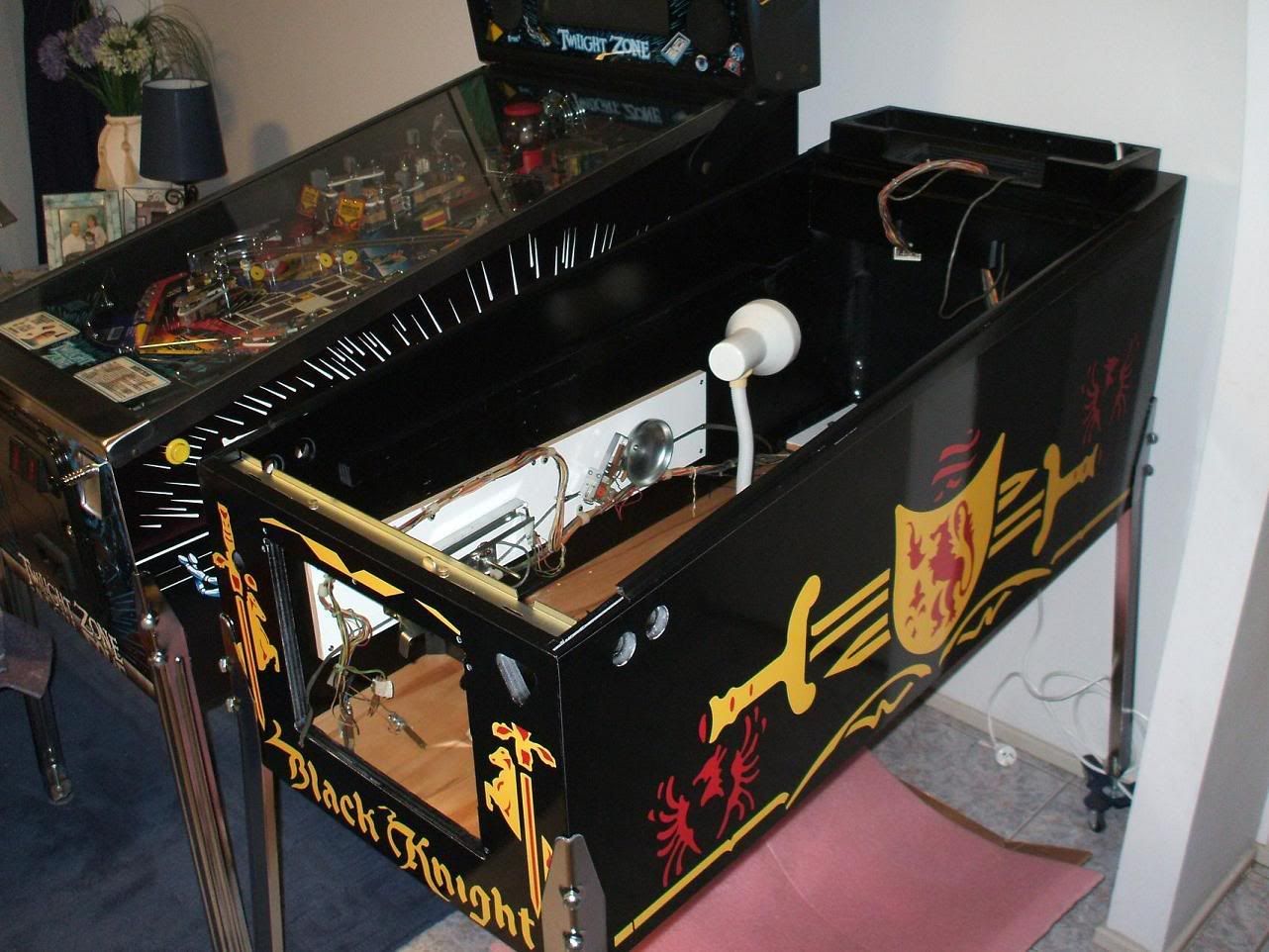 A before shot.
For the playfield swap, I decided to work in sections and proceeded to take a ton of pictures and made notes on what went where. I started on the upper playfield first. All parts were removed and fully disassembled and cleaned. I did most of the cleaning on a Sunday in front of the TV watching old movies on Foxtel. It Just seemed to fit with what I was doing. I also decided that I would replace every switch diode while I had everything apart (That was fun!!)
Working away underneath.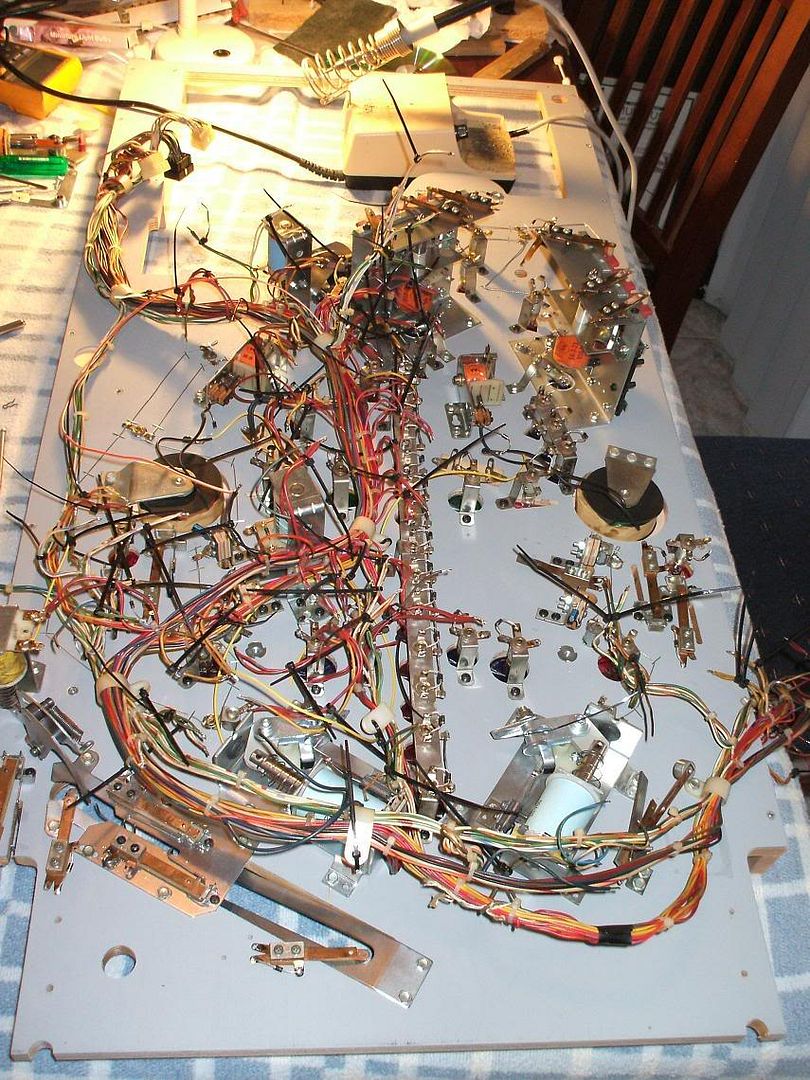 I completed the underside of the playfield first, then moved over to the top. All new flipper rebuild kits were fitted including new flipper bats. I also replaced all the finned playfield posts with new ones from the Pinball Resource. All metal parts were cleaned and re-grained where required. The pop bumper assemble was fully replaced with a new one. I found I was missing a semi-circular wire form, so I contacted Ken (Skybeaux) to see if he had the part I needed. Sure enough, he did!!! Many thanks Ken!!
The new playfield almost finished!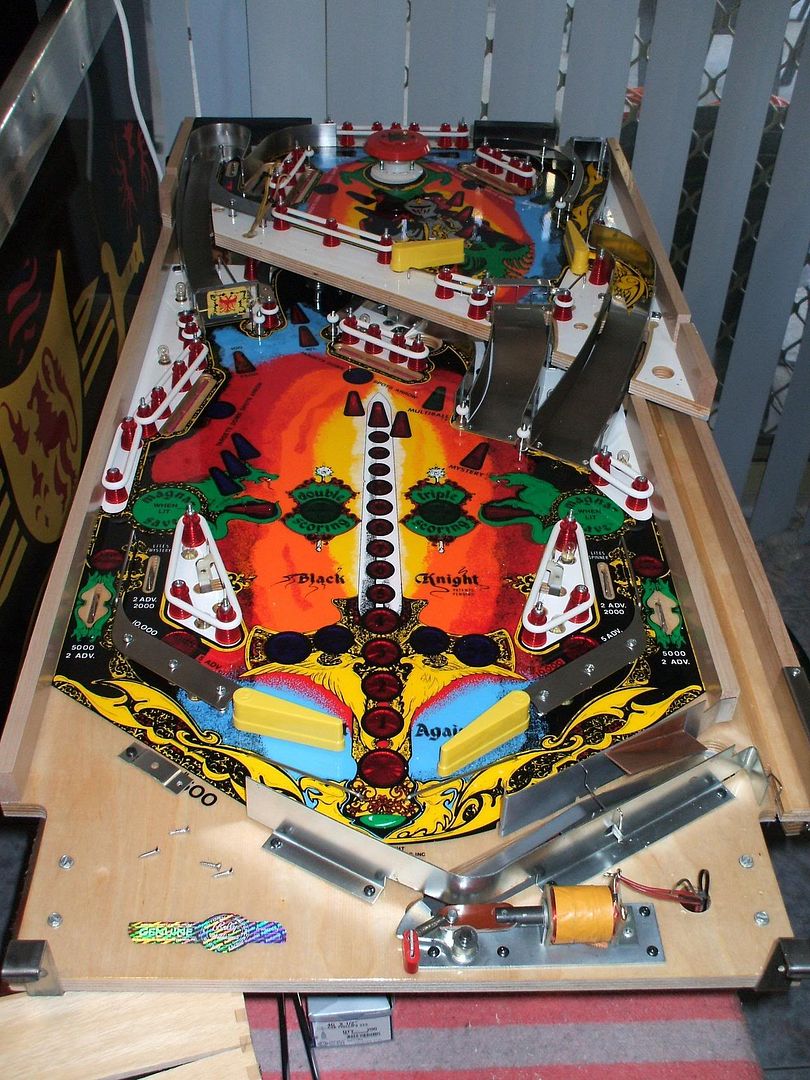 Fully working and ready for a test play.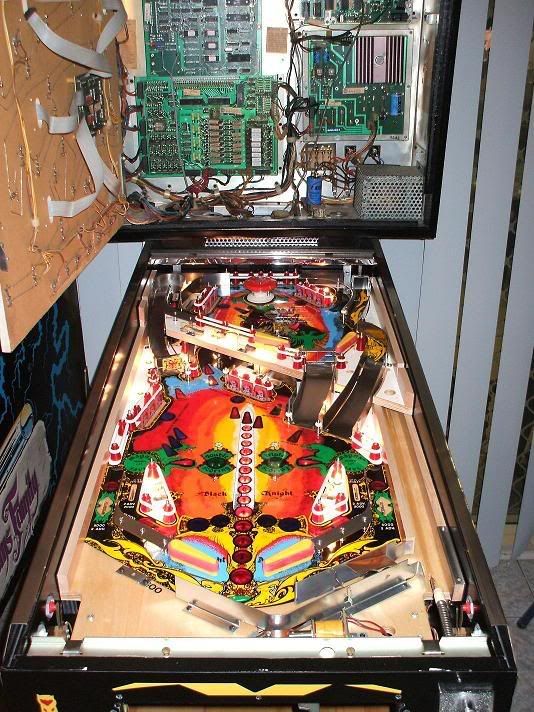 Inside the cab after fitting the playfield. I also installed a better speaker.
Once the new playfield was fitted, I powered up the game. So far so good, but I soon found I couldn't start a game. I had a number of faulty switches which turned out to be a faulty 6821 PIA and a bad 7406 on the driver board. These were quickly replaced and I was now able to start a game. I had replaced all the globes with 47's, but had a string out on the back glass. A faulty TIP42 was the culprit. The next step was to make fine adjustments to all the switches. I still hadn't fitted any displays at this stage. I had found a shorted transistor in the high voltage section, so I replaced both and also fitted 91V zeners. While measuring the high voltage (which was correct) I slipped with my meter and I saw the 250mA fuse open. I knew straight away I had blown the new transistor, so out with the board and in with another new one I was really careful measuring the high voltage next time. All the displays fired up, which was a real bonus.
My current high score.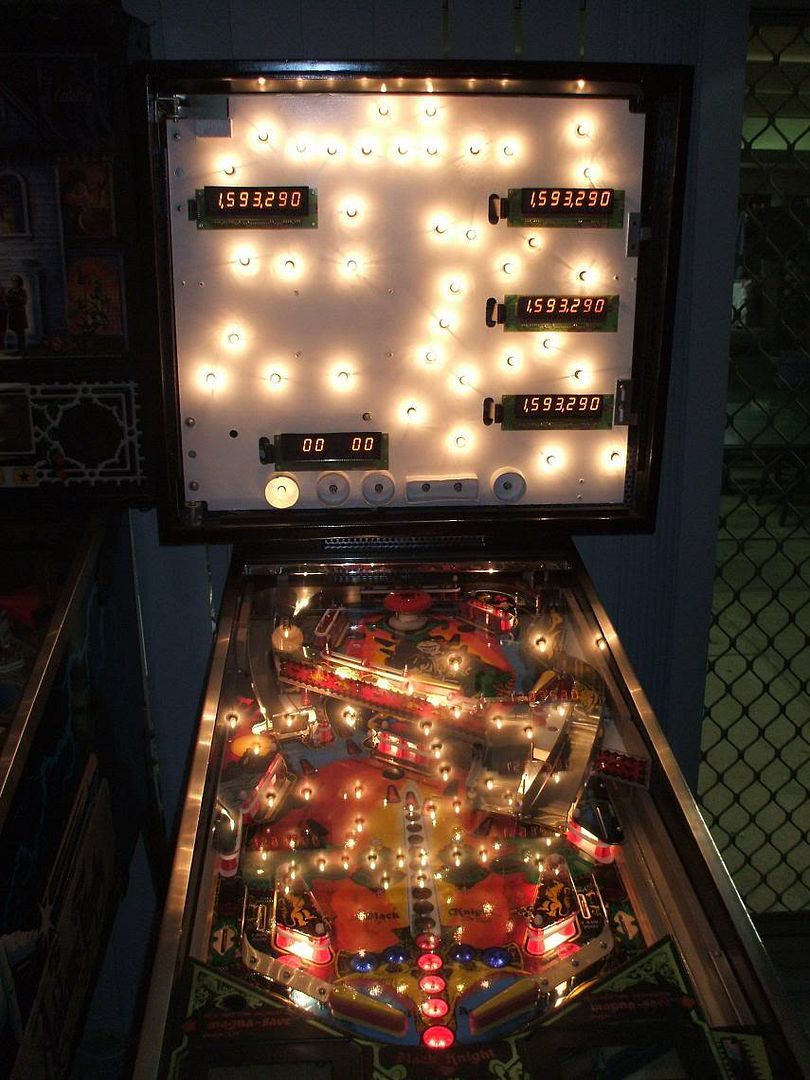 I have now test played the game quite a few times and I think it plays great! I have a friend who is turning me some new stand-offs for some of the plastics. Once this is done I'll finish installing the missing plastics. I'm also planning to have the front door chromed to finish it off.
I will be moving Black Knight into the gamesroom as soon as it's all complete. Over all I'm very happy with the end result.
I'll post a few more pictures once it's all done and in it's new home.
Regards,
Johns-Arcade.