So one day I decided that I wanted an arcade machine. I have fixed a few boards in the past, and really wanted a good 'home' for them. First off I wanted an upright but got vetoed by the boss. So a cocktail machine it was. After a long period of scouring eBay for a suitable one, I thought to myself "Self, why don't you try building one?". Good idea, in theory. Now I haven't built anything out of wood since Tech school 20 years ago. I've never used a router, jigsaw, or a circular saw.
Well, it was time to learn. I poured over the brilliant Pac-man CT plans freely available, purchased/scrounged materials and below is the result. Only real mistake? Not taking enough photos while I was building it.
Slapped together, only the dowels are holding it together, no glue. Little Miss Junior GTG! is having fun stuffing coins in the coin mechs.
Assembled. Note, I didn't use metal CP's, I made them out of wood. I'm pretty happy with the way they turned out.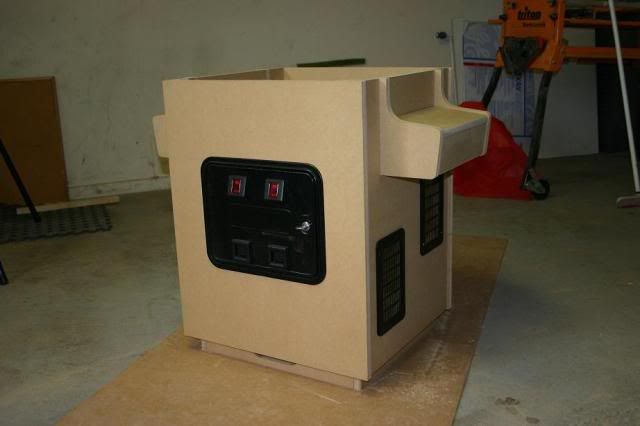 All the various bits opened up.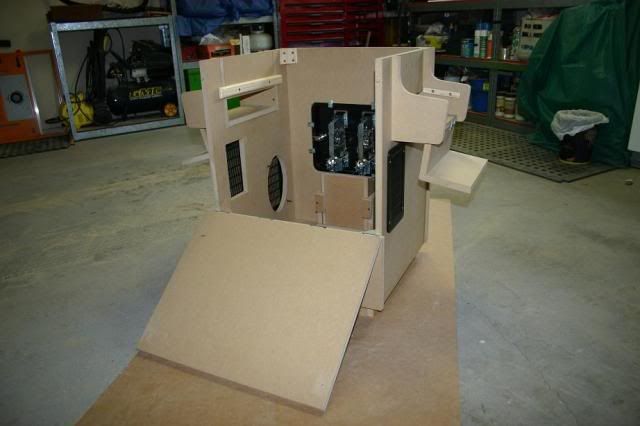 I designed the coinbox from scratch. Not too bad…..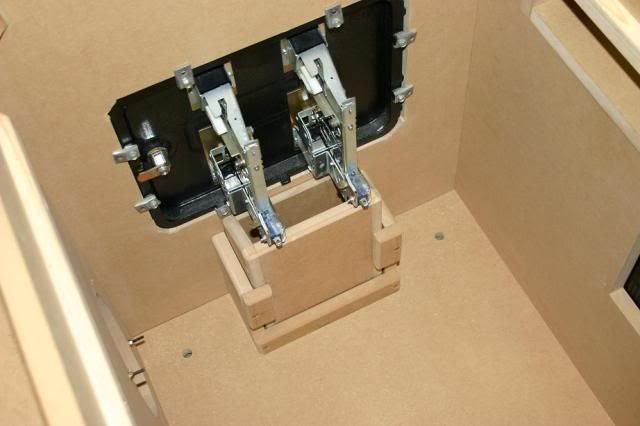 Spraybooth. Years ago I spray-painted a car. Never again. I didn't want to get paint all over my garage (workshop?) so I built a claytons spraybooth. All up cost was about $10. (Dropsheets, stole the missus' pegs, already had rope.)
Paint finished, CP's assembled, T-molding and various bits installed.
Time to cut out a top. I purchased a Galaxian underlay from …. Somewhere… I can't remember at the moment, and just marked it out on MDF.
The Donor TV. A stroke of luck this(??!?) It was in our bedroom for years. While I was painting the arcade machine, the TV went Bzzzzt! Enter Jomac and his brilliant Universal Chassis! Seriously this Guy is the best to deal with. His service is just second to none! I highly recommend him.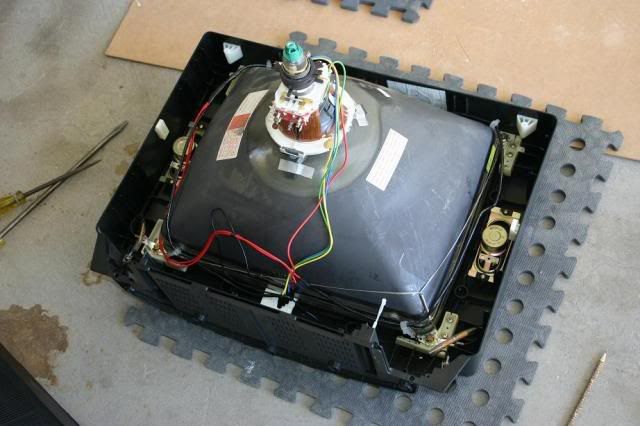 Inside the machine looking back to the CRT. Eagle eye viewers will note the wood strips holding the CP back plates have been replaced with metal. Well the 20" CRT is tight! The wood was in the way.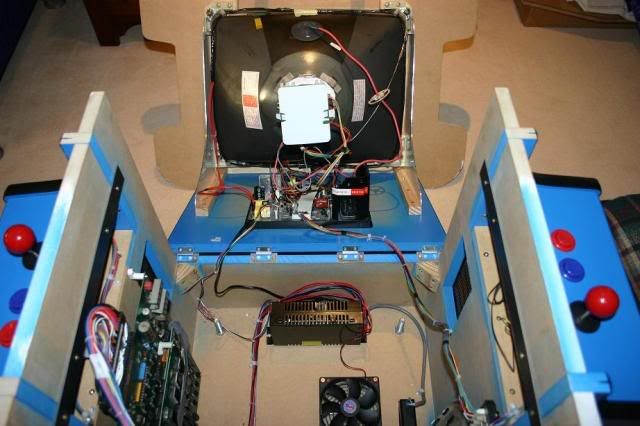 Picture looking back towards the coin door.
Yes, that is an original Ms Pac-man board. Bought stuffed from the States and resurrected. I'll get around to scratching out a repair log for it…. One day.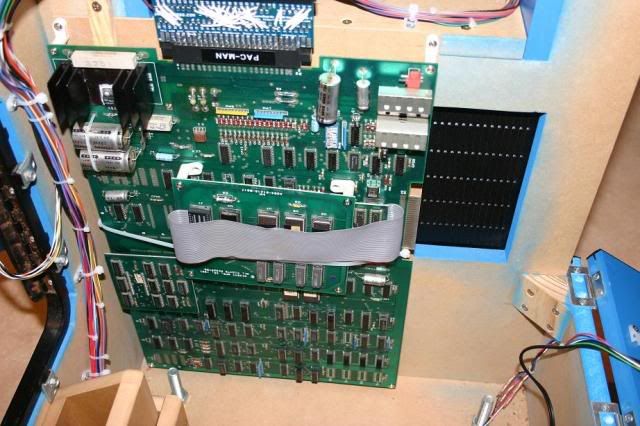 The speaker, and the extender controls for the Universal Chassis. Brilliant idea!
The wiring for the coin door. I have to chase up lamp holders that go into this kind of door, and wire them up as well. That's why the loop of wire is there.
The CRT and Universal Chassis. Note the nice shiny aluminium sides!
The current state of the machine. Mrs GTG! and Junior GTG! are busy playing Ms Pacman. I got the glass made to (almost) fit. It's a tad smaller than the wood top. Sanding required.
I still have to router out the slot for the t-molding on the top, and pull it apart to paint it black. The wiring also needs tidying up. But I have found that now that it's actually working, I can't stop playing it for long enough to finish it!
Lessons learnt – lots.
Money spent – lots!
Playing my own arcade machine with the kids? – priceless.
Cheers!
GTG!