Well here's one that might interest a few people as we don't see many of these in Australia. This is a 16ft (4.9m), 750lbs (340kg) monster EM bowling game. Manufactured in 1962 by United. United was bought out by Williams in 1964 and Williams moved to the United premises in Chicago and still make slot machines there to this day.
The machine is a United Capri. Flyer and pics from Clays site can be see here.
http://marvin3m.com/bowl/capri.htm
This is a 6 player EM that comes in 4 separate sections. I was lucky enough to score this machine as a project from some arcade machines, jukeboxes and pins that Retropin scored as a bulk lot.
I plan to restore this machine over the next couple of months, my goal is to have it ready for a meet we are planning loosely for July (if all goes to plan a special kiwi feast is planned!).
Anyway, here are the initial pics. The condition of the machine is as follows:
Backglasses – both 9/10 – here is the upper backglass, there are a couple of spots that I plan to fix up with some photoshopping.
Here is the lower backglass. This has one spot that will need a little touch up as well.
The lane itself is a laminate and is in very dirty but good condition. There is one chipped area that I plan to touch up with some 2 part coloured epoxy. The chip could be left alone as it doesn't affect gameplay but I plan to give this one the 'works' so will try and repair it fully.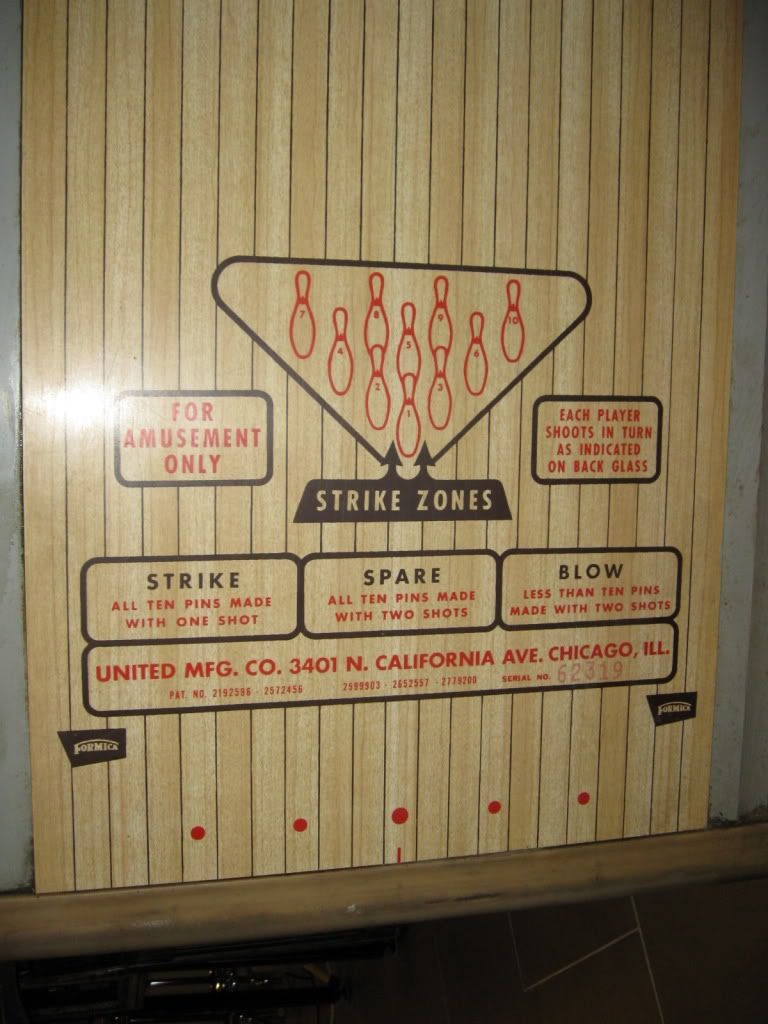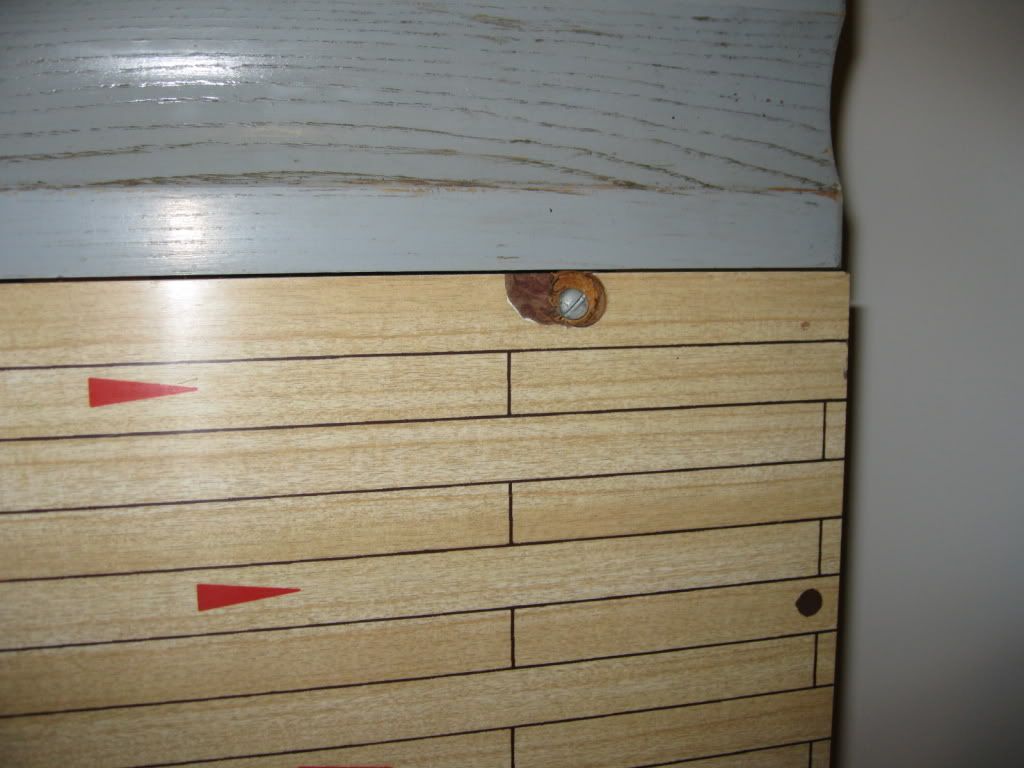 The frame is solid oak and makes up a lot of the 340kg. It has nearly 50 years of scrapes and scratches but I have a feeling that with a light sanding and treatment that it will look fantastic. It is furniture grade timber and will come up really nice.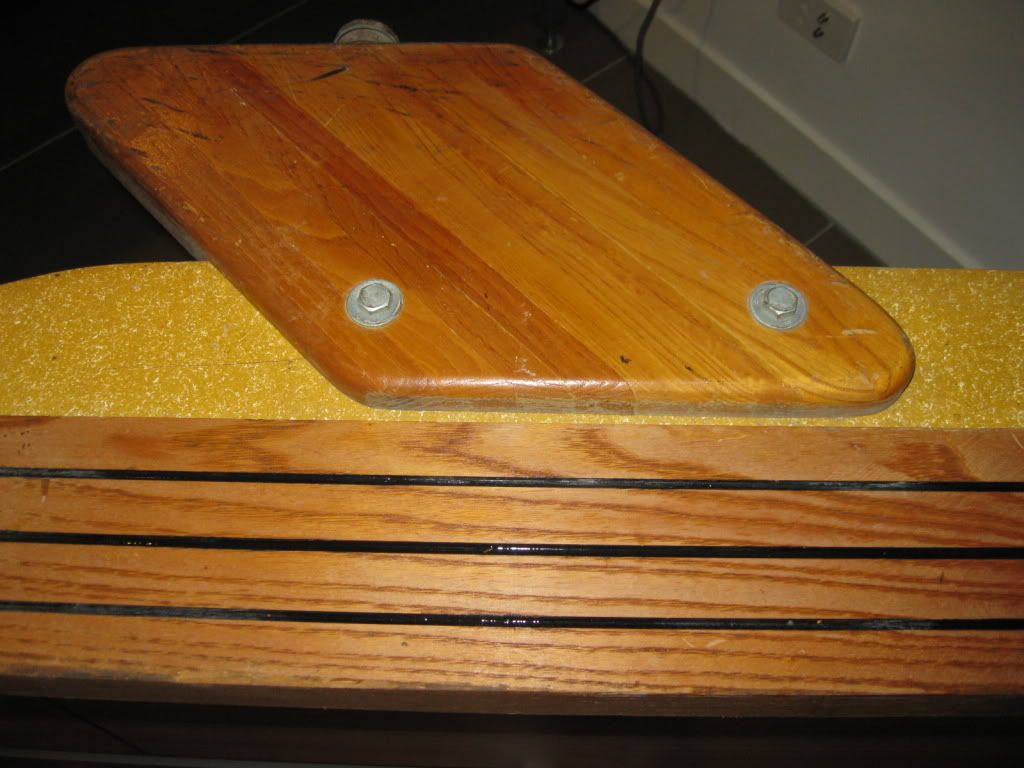 The pin unit is not in good condition. The way these things work is that each pin is on a solenoid that retracts the pin when a lane switch is activated by the ball. The switches can be seen here: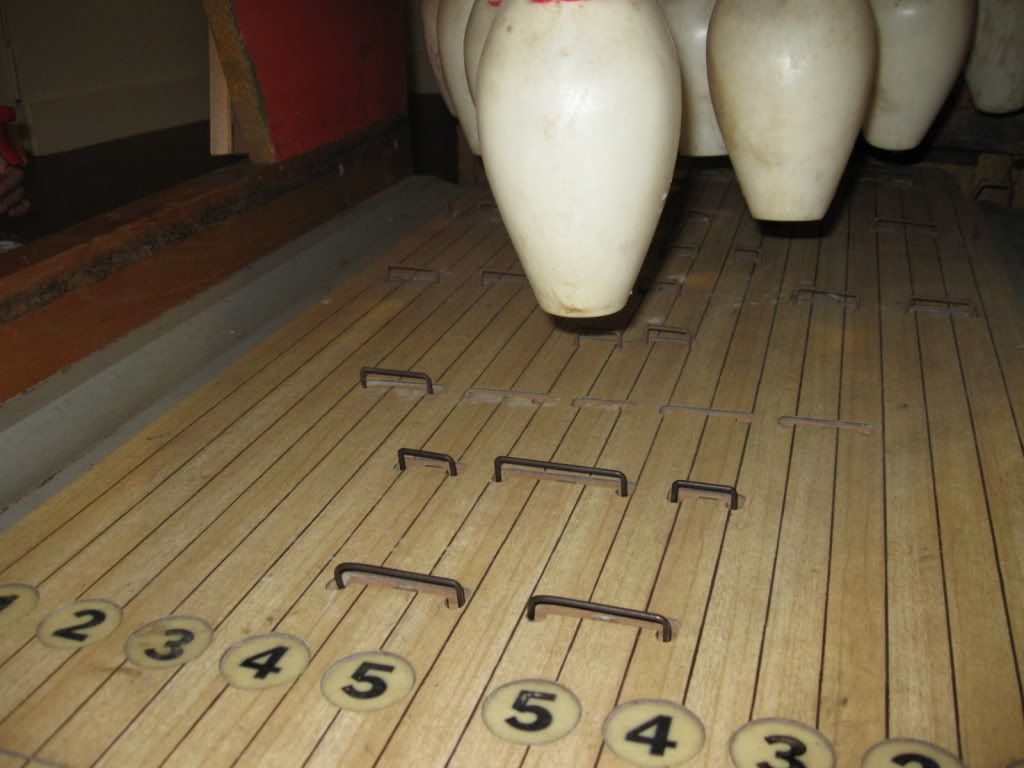 The switches are just in front of the pins so the ball looks like it is hitting the pins but it is a bit of an optical illusion from 16ft away. There are a few broken switches (2 are missing altogether). The pins themselves will need a bit of work (dirty and a some a bit misshapen and cracked). All swing up mechanisms will need rebuilding.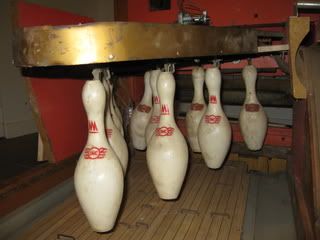 The pin uplift mechanisms and coils, some not working, bent housings, gummed up actions.
There is a pin reset motor where the windings have broken. The cam is badly worn and this will require a major rebuild. Many of the pin coils poorly adjusted/bent (don't know how many of the coils themselves are ok yet). Some broken leaf switches.
The hood unit (home of the lower backglass) is pretty simple in comparison. This is basically just a light board. The cool thing about this is that just like in real bowling it lights which pins are still standing after your bowl.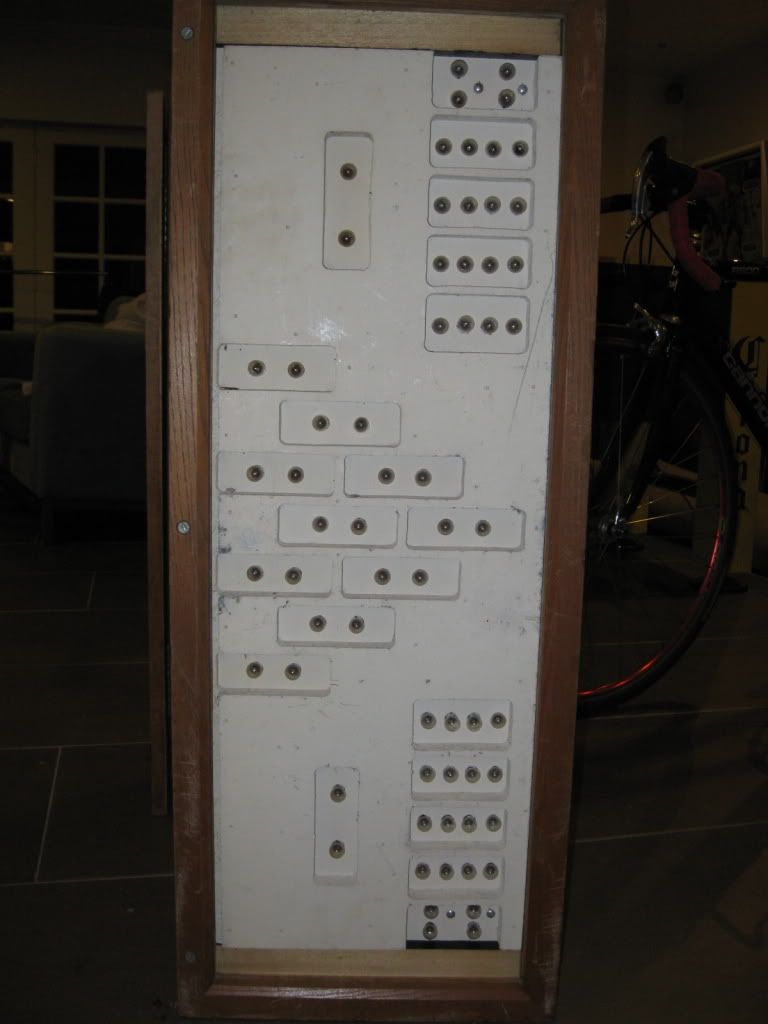 The coin unit is in fair condition. No key of course so it will need to be drilled out. There may be more surprises inside.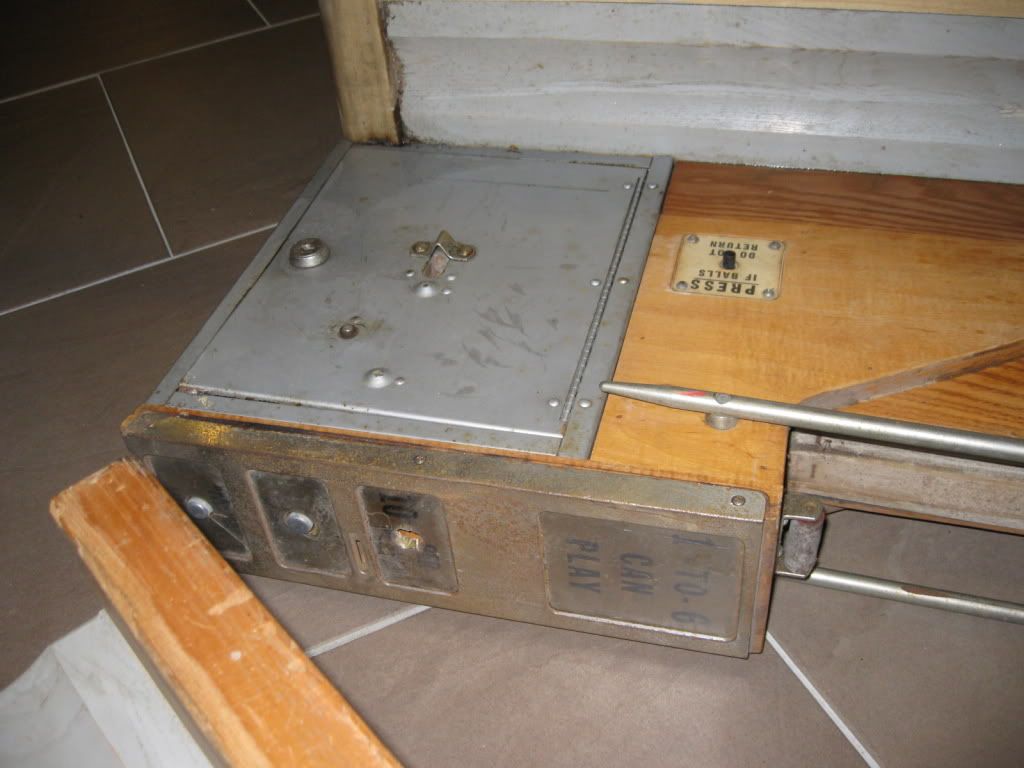 The ball return unit. After your bowl the ball it finds it's way onto an elevator that takes it to the top of the rear unit and allows it to roll down a ramp which returns it to the front of the machine (VERY cool!). The elevator unit will need a rebuild and re-lube. Note the copper tubes which allows the ops to oil the motor bearings (I'm already stressing about what condition they will be in when I open that up).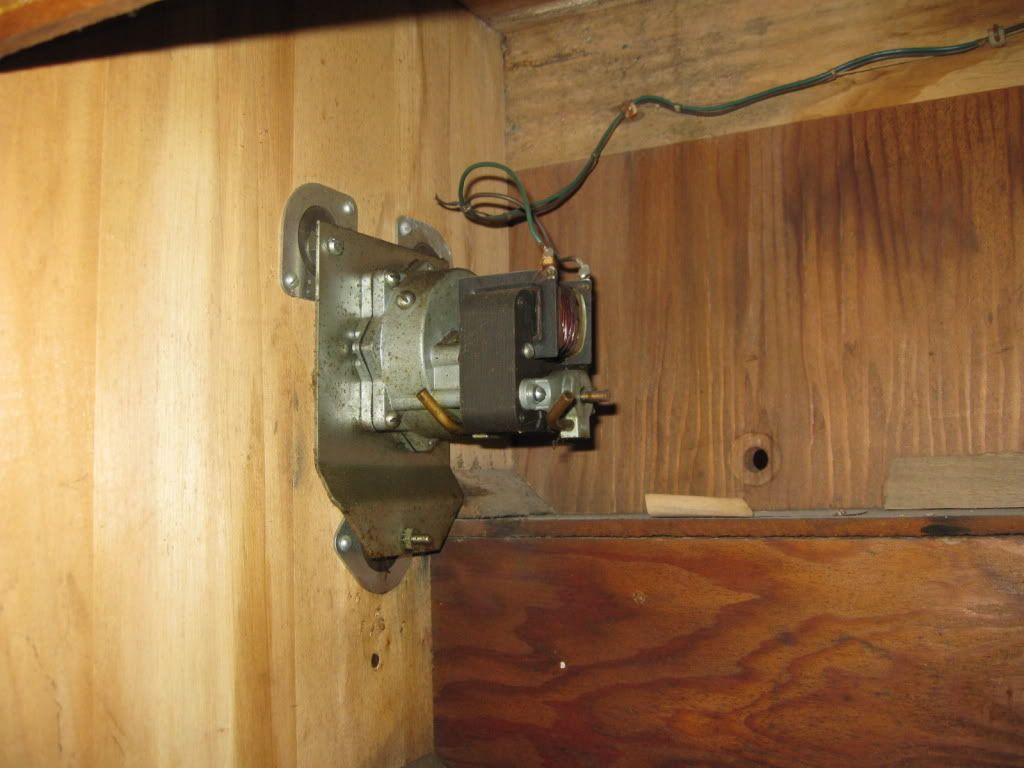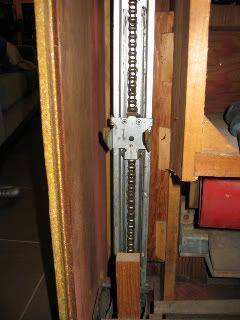 Silent ball return rubber. The photos look worse than it really is. A heat gun and some care will most likely get it back to working condition but you can also buy replacement rubber which I'll probably do just to get it looking shmick.
The main backbox. Basically the rear of the machine is the brain. It could be loosely described as a 6 player EM pinball in terms of logic but anyone that has seen the backbox of a 4 player EM pin will know just how much gear lives in there. The score reels, the score motor and the pin count units. There are 4 motors and 102 coils in here. I'm pleased to report that it looks super clean. Contacts will need adjusting and cleaning and counters and motors will need rebuilding but at least there is not a layer of the usual filth and black dust!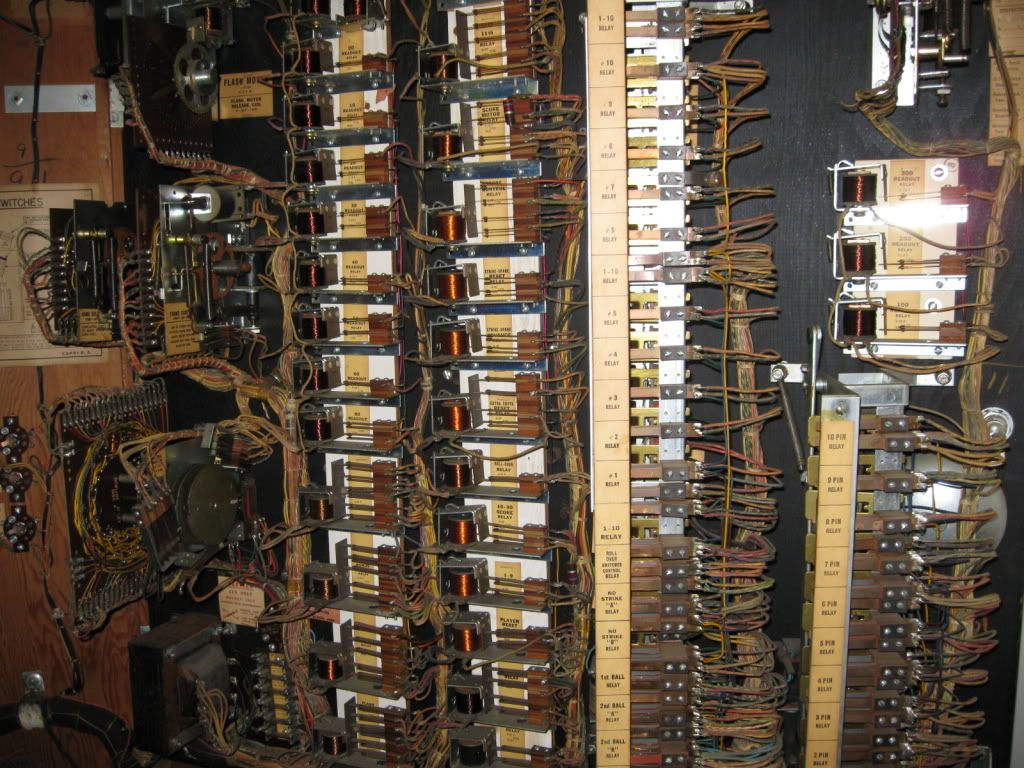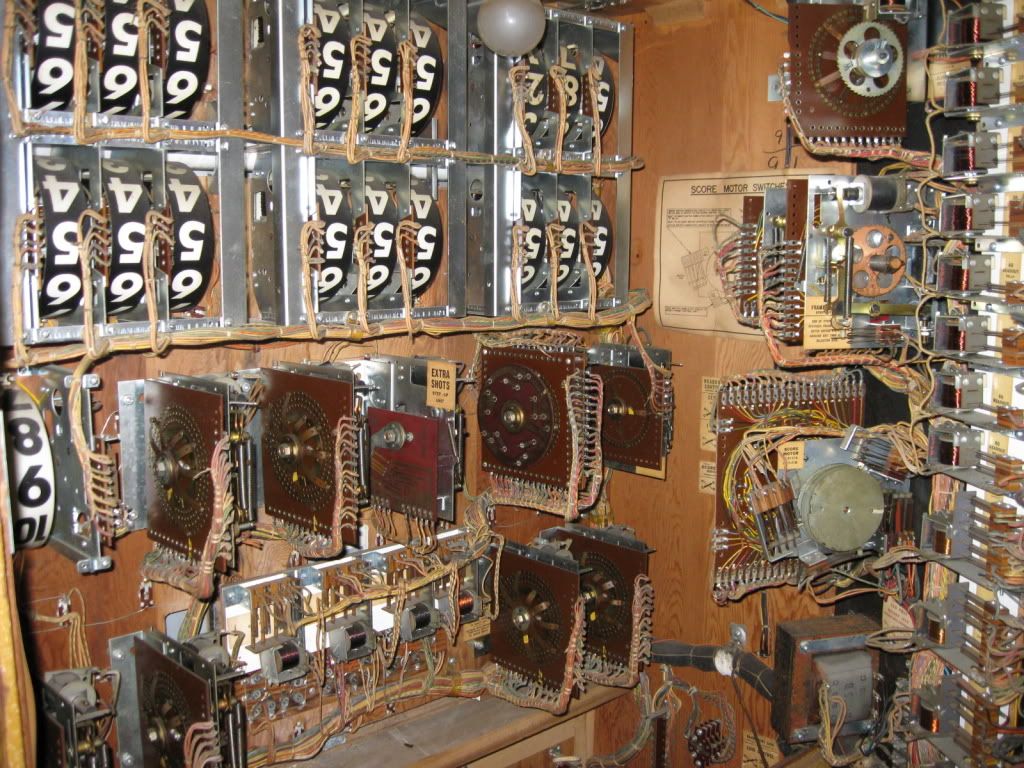 All in all there are 102 coils and 4 motors and about 40 switches that drive this unit. It runs on 117 volt US power so will need to be driven off a step down transformer for the time being. It pulls 3.5 amps @ 117v. There are 2 transformer taps @ 50v and 6v but a couple of things like the elevator motor run on 117 raw.
The really great thing about it is the dusty crud covered envelope with rusty fasteners that was in the back. It had the full schematics and coil and motor specs. The schematics fold out to be about 1m by 3m and I'm sure they get a fair bit of use in the next few months. Anyway, I'll update the thread with progress as I go along. Thanks to DavidAVD who happened to appear as I was moving it into the gamesroom, hope you recover soon...