I thought you might be interested to know that for the last few weeks, something big has been happening in Sydney, my home city ...
It's called
Vivid Sydney
, now in its eighth year, and it's Australia's major event in winter. It is recognised as the
largest event of its kind in the world
combining light, music and ideas.
Vivid Sydney has activations at a number of locations across the city including: Circular Quay and the Sydney Opera House, The Rocks, Martin Place, Darling Harbour, Walsh Bay, Central Park, Chatswood, Carriageworks, on Sydney Harbour and for the first time, Taronga Zoo, The Royal Botanic Garden and The Galleries. The Sydney Film Festival is on as well over a dozen cinemas.
So what has this got to do with CAG gaming?
... well everything ...
I visited the
8 Bits and Bytes
event in Martin Place last Thursday night and came back for
more
on Saturday night ... it only activates from 5pm to 11pm.
(perfect time for
OOO
, however I wish it did go even later, till say 5am in the morning ...)
]
http://s1120.photobucket.com/user/sno-bee/media/8BitsWeb1b70_zpscttqikaq.png.html
]
"]Error | Photobucket[/url]
Here is some commentary and some pics that I took at the event ...
What's it all about?
]
"]Error | Photobucket
]
"]Error | Photobucket
This next one is called strategic game play. Here's some tips ...
]
"]Error | Photobucket
Well first the MGL
shirt
, that's a must and it glows cool in the night. Next the
shades
... "the lights, they are soooo bright" ...
Before hitting the machines, I ordered a can of healthy Batlow Cloudy Cider (oh I forgot the 4.2% alcohol). So make sure the
bar
is close by! ... only 4 metres ...
You need to play and jive to the music, great funky ear splitting
sound
only 3 metres away ...
And
Miranda
only 6 metres away, what can I say guys ... OMG!
And the most important of all (well you need all the other tips above, but this sounds impressive), the
machine
with the CAG games only 1 metre away!
Insert coin and play ...
]
"]Error | Photobucket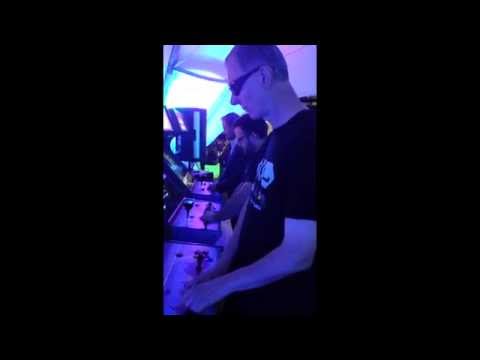 ]
"]Error | Photobucket
]
"]Error | Photobucket
After a few hours play, well it's time to eat and look around ... some pics ...
]
"]Error | Photobucket
What's on the menus, well many were CAG arcade themed. I saw Mary's Pac-man burger and this menu at one of the 5 pop up burger joints ...
Gunsmoke
and
Donkey Kong
are absolute classics ... I grabbed a polish pounder (the burger!) from Sammy's Burger bar ... absolutely delicious!
]
"]Error | Photobucket
A super giant TV like Pong ... there were motion sensors at the front and huge queues on Saturday night. This was taken on Thursday night. I had a game with my wife and just won 7-5 ... phew!!!
]
"]Error | Photobucket
Well that was
8 Bits and Bytes
so far ... yes it goes for another week and Vivid Sydney continues ...
I hope this post was as
helpful
as all the game tips you guys provided in MGL28 so far ...
If you are in town, pop in to have a look, its is brilliant ...
LIGHTS, CAMERA ...
]
"]Error | Photobucket
ACTION ...
]
"]Error | Photobucket
THE MGL WELCOMES YOU ...
Have fun with the MGL ...
OOO