http://s189.photobucket.com/user/holycow1973/media/gyruss_zps869fd1ca.png.html
]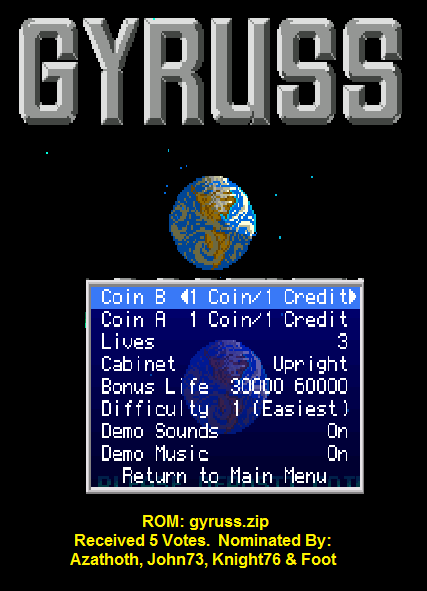 [/URL]
| | |
| --- | --- |
| Number of Simultaneous Players: | 1 |
| Maximum number of Players: | 2 |
| Gameplay: | Alternating |
| Control Panel Layout: | Single Players |
| Controls: | Joystick: 8-way, Buttons: 1 (fire) |
Background/Instructions:
A shoot-em-up through the Earth's solar system where the player's ship moves in a circular orbit around the outer edge of the screen while shooting at enemies in the center. Excellent synthesizer music score of Bach's "Tocatta and Fugue in D Minor".
Score Submissions:
Please make a new post for each score improvement with your score as the first line or title of your post along with a screen shot (photo or screen capture) showing your score. Gryruss finishes July 21, 7pm AEST.
Current AA Champ of Gyruss:
Amy 644,150
Leaderboard:
| | | | |
| --- | --- | --- | --- |
| Position | Player | Score | % |
| 1 | OOO | 1,780,050 | 100.00 |
| 2 | RMacauley | 639,000 | 35.90 |
| 3 | Foot | 615,800 | 34.59 |
| 4 | John73 | 488,300 | 27.43 |
| 5 | Brad | 448,250 | 25.18 |
| 6 | Rat | 238,500 | 13.40 |
| 7 | kane | 197,850 | 11.11 |
| 8 | Pelly | 175,150 | 9.84 |
| 9 | nicko71 | 144,900 | 8.14 |
| 10 | Mameshane | 143,050 | 8.04 |
| 11 | camaro | 141,150 | 7.93 |
| 12 | azathoth | 120,000 | 6.74 |
| 13 | chrisbo | 112,350 | 6.31 |
| 14 | Zombie_M | 106,100 | 5.96 |
| 15 | Barra | 60,500 | 3.40 |
| 16 | Binkles | 31,350 | 1.76 |