]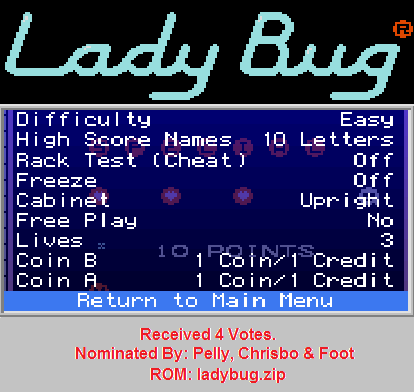 "]Error | Photobucket
| | |
| --- | --- |
| Number of Simultaneous Players: | 1 |
| Maximum number of Players: | 2 |
| Gameplay: | Alternating |
| Control Panel Layout: | Single Player |
| Controls: | Joystick: 4-way (up, down, left, right) |
Background/Instructions:
You control a Ladybug that moves around a maze eating dots while avoiding poison and pursuing insects. The maze has revolving doors that can be used to thwart the insects. Collect letters to form the word "EXTRA" and receive an extra life or spell "SPECIAL" to earn free credits.
Score Submissions:
Please make a new post for each score improvement with your score as the first line or title of your post along with a screen shot (photo or screen capture) showing your score. Lady Bug finishes June 23, 7pm AEST.
Current AA Champ of Lady Bug:
Brad 144,230
Leaderboard:
| | | | |
| --- | --- | --- | --- |
| Position | Player | Score | % |
| 1 | chrisbo | 314,040 | 100.00 |
| 2 | knight76 | 161,530 | 51.44 |
| 3 | Brad | 153,880 | 49.00 |
| 4 | Foot | 140,930 | 44.88 |
| 5 | DKong | 139,970 | 44.57 |
| 6 | Pelly | 132,010 | 42.04 |
| 7 | RMacauley | 118,100 | 37.61 |
| 8 | John73 | 105,920 | 33.73 |
| 9 | Barra | 98,680 | 31.42 |
| 10 | nicko71 | 92,390 | 29.42 |
| 11 | MameShane | 91,680 | 29.19 |
| 12 | kane | 84,060 | 26.77 |
| 13 | Fire_Power | 67,070 | 21.36 |
| 14 | Monsta Bonza | 63,430 | 20.20 |
| 15 | Zombie_M | 44,520 | 14.18 |
| 16 | azathoth | 35,650 | 11.35 |
| 17 | Binkles | 11,970 | 3.81 |
| 18 | HOW | 11,110 | 3.54 |
| 19 | MonoJoker | 9,300 | 2.96 |