| | | |
| --- | --- | --- |
| Fantasy Zone | MGL 15 Game 3 | Nominated by: kane |
| | | |
Game Settings
ROM Name: fantzone.zip
DIP Switches: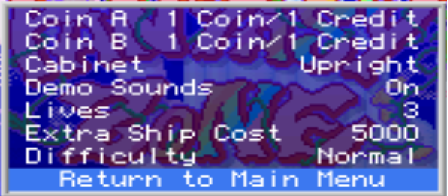 Game Info
Number of Simultaneous Players: 1
Maximum number of Players: 2
Gameplay: Alternating
Control Panel Layout: Single Player
Sound: Amplified Mono (one channel)
Controls:
Joystick: 8-way
Buttons: 2 [Shoot, Bomb]
Game Introduction
The player controls a sentient spaceship named Opa-Opa who fights nonsensical invader enemies in the titular group of planets, full of settings atypical of the traditional scrolling shooter and pastel colors; for that reason, it is occasionally dubbed a "cute 'em up".
In the game, the player's ship is placed in a level with a number of bases to destroy. When all the bases are gone, the stage boss appears, who must be defeated in order to move on to the next level.
More detailed information on Fantasy Zone and game play can be found here:
http://www.arcade-museum.com/game_de...p?game_id=7755
To qualify for MGL points you will need to have submitted a score by stating your score in the subject line of your message, and posting a screenshot in this thread. Submit scores as many times as you like, please post a new message for each new score. Fantasy Zone comp closes Sunday 7PM November 11th.
Check back here for progress scores..... Good Luck
---
Progress Scores
| | | | |
| --- | --- | --- | --- |
| Rank | Name | Score | MGL Points |
| 1 | ED_209 | 188,240 | 25 |
| 2 | RMacauley | 187,480 | 20 |
| 3 | Pelly | 180,180 | 16 |
| 4 | Taverner | 165,840 | 13 |
| 5 | casperthefriendly | 139,600 | 11 |
| 6 | nicko71 | 139,100 | 10 |
| 7 | kane | 124,880 | 9 |
| 8 | Mikie | 102,980 | 8 |
| 9 | Mameshane | 78,540 | 7 |
| 10 | Brad | 96,580 | 6 |
| 11 | bkltgr44 | 62,900 | 5 |
| 12 | MonoJoker | 54,880 | 4 |
| 13 | John73 | 47,160 | 3 |
| 14 | Foot | 23,800 | 2 |