| | | |
| --- | --- | --- |
| Bosconian | MGL 15 Game 2 | Nominated by: Foot |
| | | |
Game Settings
ROM Name: boscomd.zip
NOTE: The default DIP switches allow for continue in this game, you may use continues as you would in an arcade for practice. For your score to be eligible you MUST NOT use continues. This rule applies to ALL MGL games. To clarify - your score must be achieved using 1 credit only and starting from the beginning of the game.
DIP Switches: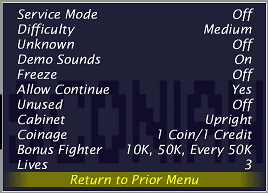 Game Info
Number of Simultaneous Players: 1
Maximum number of Players: 2
Gameplay: Alternating
Control Panel Layout: Single Player
Controls:
Joystick: 8-way
Buttons: 1 [Fire]
Sound: Amplified Mono (one channel)
Game Introduction
This game is similar to Time Pilot and Sinistar in that your ship stays in the center of the screen. During flight, you must avoid stationary asteroids and mines. As you progress in levels, the green hexagonal enemy space stations begin to shoot missiles from their cores. When under enemy bases, enemy fighters can change direction at will.
More detailed information on Bosconian and game play can be found here:
http://www.arcade-museum.com/game_detail.php?game_id=7196
To qualify for MGL points you will need to have submitted a score by stating your score in the subject line of your message, and posting a screenshot in this thread. Submit scores as many times as you like, please post a new message for each new score. Bosconian comp closes Sunday 7PM October 28th.
Check back here for progress scores..... Good Luck
---
Final Standings
| | | | |
| --- | --- | --- | --- |
| Rank | Name | Score | MGL Points |
| 1 | Brad | 244,910 | 25 |
| 2 | RMacauley | 181,680 | 20 |
| 3 | Taverner | 158,560 | 16 |
| 4 | Pelly | 139,950 | 13 |
| 5 | ED_209 | 119,590 | 11 |
| 6 | casperthefriendly | 111,480 | 10 |
| 7 | Foot | 108,450 | 9 |
| 8 | Lupin | 99,940 | 8 |
| 9 | Jammasized | 92,870 | 7 |
| 10 | Rat | 89,740 | 6 |
| 11 | Taverner | 81,910 | 5 |
| 12 | Nicko71 | 79,340 | 4 |
| 13 | Mikie | 77,970 | 3 |
| 14 | Blontic | 76,050 | 2 |
| 15 | MonoJoker | 72,090 | 1 |
| 16 | kane | 71,230 | - |
| 17 | DKong | 63,040 | - |
| 18 | John73 | 61,340 | - |
| 19 | Fire_Power | 26,660 | - |