| | | |
| --- | --- | --- |
| R-Type | MGL 15 Game 1 | Nominated by: Pelly |
| | | |
Game Settings
ROM Name: rtype.zip
DIP Switches: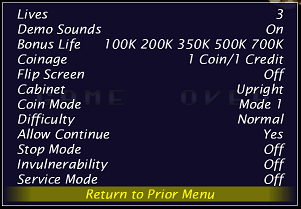 Game Info
Number of Simultaneous Players: 1
Maximum number of Players: 2
Gameplay: Alternating
Control Panel Layout: Single Player
Controls:
Joystick: 8-way
Buttons: 2 [Fire, Pod Control]
Sound: Amplified Mono (one channel)
Game Introduction
Scrolling shoot-em-up game. Use your force to help kill the aliens. Pick up power-ups that appear when you kill "Armos". Power-ups help you get stronger. They include air-to-ground, reflective, air-to-air, heat-seeking lasers, and speed-ups.
The longer you hold down the fire button, the stronger your shot will be. When at full strength your shot will kill every enemy that it touches. A normal shot will only kill one enemy.
More detailed information on R-Type and game play can be found here:
http://www.arcade-museum.com/game_de...p?game_id=9219
To qualify for MGL points you will need to have submitted a score by stating your score in the subject line of your message, and posting a screenshot in this thread. Submit scores as many times as you like, please post a new message for each new score. R-Type comp closes Sunday 7PM October 21st.
Check back here for progress scores..... Good Luck
---
Final Standings
| | | | |
| --- | --- | --- | --- |
| Rank | Name | Score | MGL Points |
| 1 | RMacauley | 416,300 | 25 |
| 2 | ED_209 | 411,700 | 20 |
| 3 | Pelly | 392,500 | 16 |
| 4 | Kane | 265,400 | 13 |
| 5 | Nicko71 | 260,200 | 11 |
| 6 | Troyus | 204,700 | 10 |
| 7 | Mikie | 186,900 | 9 |
| 8 | Taverner | 176,600 | 8 |
| 9 | MonoJoker | 164,800 | 7 |
| 10 | Brad | 154,000 | 6 |
| 11 | Lupin | 151,500 | 5 |
| 12 | Foot | 115,100 | 4 |
| 13 | John73 | 101,900 | 3 |
| 14 | Rat | 90,500 | 2 |