RAT screams enough mazes and platforming already, lets get back to schmupping with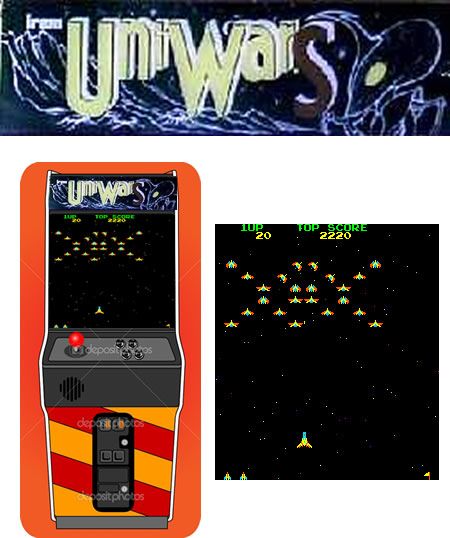 lol couldn't find a cab pic anywhere.
MAME DIP SWITCH SETTINGS and ROM NAME
(make sure your machine is set to these settings)
ROMSet: UniwarS
Cabinet: Upright
Service Mode: Off
Bonus Life: 4000
Lives: 3
Unused: Off
Special Rules: None
Tech Blah:
Manufacturer: Irem
Year: 1980
Type: Videogame
Class: Wide Release
Genre: Space
Monitor:
Orientation: Vertical
Type: Raster: Standard Resolution
CRT: Color
Conversion Class: unique
Game Specific: UniWar S Pinout
Settings: UniWar S Dipswitch Settings
Number of Simultaneous Players: 1
Maximum number of Players: 2
Gameplay: Alternating
Control Panel Layout: Single Player
Controls:
Joystick: 2-way (left, right)
Buttons: 1 [Fire]
Sound: Amplified Mono (one channel)
Cabinet Styles:
Upright/Standard

Game description:
This is a four-stage space shoot-em-up game. Stage one is a familiar Galaxians-type scenario, with your ship facing off against a formation of super mosquito aliens that break off and dive at you. Completing this stage warps you to stages two through four, where your ship is positioned an inch or two above the bottom of a screen, just above a dotted blue line. This line serves no purpose during stage two's "hovering attackers", but during stages three and four "flying bones" and "rolling fire", the enemies drop Stick Aliens that look like little space soldiers. The Stick Aliens try to get behind the dotted line, where they patrol back and forth underneath your ship, trying to spear you from behind. The only way to get rid of them is to shoot the Killer King which randomly appears during the stage. Completing these three levels warps you back into space, to start the cycle over again.
More info if you want it @
http://www.arcade-museum.com/game_de...?game_id=10268
TG Top 3
1 21,890 Paul Kearns Dec 09 2010 INP 0
2 20,990 Sami Virtanen Aug 10 2009 INP 900
3 20,600 George Falomir May 24 2009 INP 1,290
To qualify for MGL points you will need to have submitted a score by stating your score in the subject line of a message, and posting a screenshot in this thread. Submit scores as many times as you like, but please post a new message for each new score.
Uniwar S comp closes Sunday 7PM March 4th
GOOD LUCK!

PROGRESS SCORES:



Brad: 37,010


RMacauley: 35,650
Pelly: 32,210


ED209: 28,920


Rat: 25,870
Jammasized: 19,860

John73: 15,930
Fire_Power: 13,990
kane: 13,030
azathoth: 11,510
Dkong: 10,390
nicko71: 10,230
Hollo: 8,730
Wongtiplatex: 4,470