Lock and Load! MGL14 kicks off with
John73's nomination: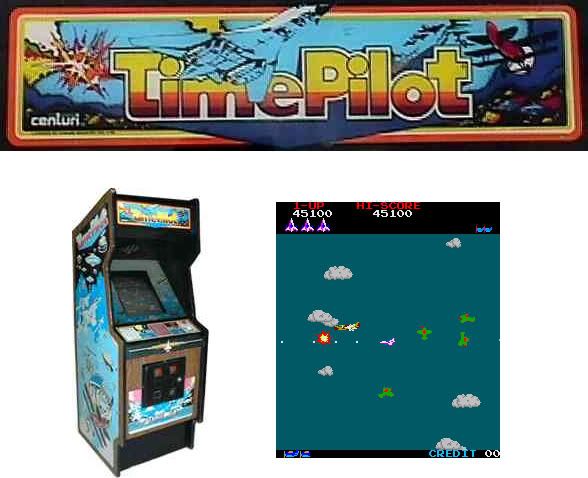 ROM NAME: Timeplt.zip

DIP SWITCHES:

Lives: 3
Difficulty: 3
Bonus: 10000 50000
(TG Marathon Settings)
Special Rules: Parachute hunting is allowed.
Manufacturer:
Centuri
Year:
1982
Number of Simultaneous Players: 1
Maximum number of Players: 2
Single Player Controls:
Joystick: 8-way
Buttons: 1 [Fire]

GAME DESCRIPTION
The player's single jet fighter placed in the center of the screen shoots down waves of WWI Biplanes, WWII era fighters, 1970's era helicopters, 1980's era jets, and futuristic UFOs while trying to rescue fellow pilots and avoid bombs, missiles, and other enemy fire. More info if you want it @
http://www.arcade-museum.com/game_de...?game_id=10119
To qualify for MGL points you will need to have submitted a score by stating your score in the subject line of your message, and posting a screenshot in this thread. Submit scores as many times as you like,
please post a
new message for each new score.
Time Pilot comp closes
Sunday 7PM January 22nd.
TOP 3 Twin Galaxies Scores:
(marathon settings)
| | | | | | | |
| --- | --- | --- | --- | --- | --- | --- |
| | 1 | 1,795,700 | Christoff Bemis | Nov 12 2010 | INP | 0 |
| | 2 | 1,515,800 | Renzo Vignola | Feb 08 2005 | INP | 279,900 |
| | 3 | 1,156,400 | Mike Ashley | Apr 29 2010 | INP | 639,300 |

GOOD LUCK!



Progress Scores:




RMacauley: 793,600
Spartan: 744,900
Pelly: 729,400
ED_209: 591,300
L33AL: 583,900
Brad: 487,100
DKong: 486,500
Kane: 449,400
Jammasized: 342,700
Wingtipvortex: 337,000
John73: 332,400
Woody: 327,700
Foot: 325, 600
Rat: 322,200
Hollo 263,700
John73: 251,500
Azathoth: 248,400
Gameroom: 188,300
Knight76: 186,800
Nicko71: 181,400