FIRE_POWER has you in his sights with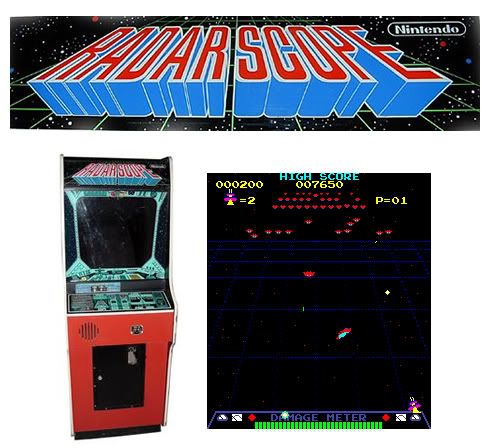 ROM NAME: Radarscp
.zip

DIP SWITCHES:
Manufacturer:
Nintendo
Year:
1980
Number of Simultaneous Players: 1
Maximum number of Players: 2
Gameplay: Alternating
Control Panel Layout: Single Player
Controls:
Joystick: 2-way (left, right)
Buttons: 1 [Fire]
Radar Scope Description
Your ship moves horizontally at the bottom of the playfield. Shoot at alien ships in the rows at the top and as they dive-bomb you. Best described as a cross between Space Invaders and Galaxians. Few game sounds, most of which are fairly high pitched, and tend to be annoying after a short time. Hardware Blue-to-Black-to-Blue background generation.
Even more info if you need it @:
http://www.arcade-museum.com/game_de...p?game_id=9238
To qualify for MGL points you will need to have submitted a score by stating your score in the subject line of your message, and posting a screenshot in this thread. Submit scores as many times as you like, please post a
new message for each new score.
RADAR SCOPE comp closes
7PM August 21st.
GOOD LUCK!

Leaderboard

Brad: 66,050

Pelly: 59,100

kane: 53,150
Spartan: 50,050
Fire_Power: 48,550
DKong: 33,500
Rat: 32,450
John73: 29,100
Foot: 8900
@lien_Zed: 7550