FOOT dips a toe in the water with
Manufacturer:
Tehkan
Year:
1982
Controls:
Joystick: 8-way
Buttons: 1 [Dive]
ROM: swimmer.zip

DIP SWITCH SETTINGS: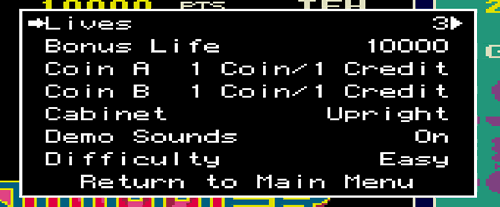 Game description:


Venture up stream gathering fruits while avoiding various water-bound pests and obstacles. Eat power pills to attack critters. You begin the game with three lives and an extra life is awarded at 10,000 points. The game has four levels and on each one you must gather four kinds of fruit: strawberries, bananas, grapes and melons.
For more info go to:
http://www.arcade-museum.com/game_de...p?game_id=9988
To qualify for MGL points you will need to post in this thread, stating your score in the subject line of your message, and include a screenshot. Submit as many score updates as you like, but please post a new message for each new score.
SWIMMER comp closes
7pm Sunday August 14th.
GOOD LUCK!



Leaderboard



Spartan: 107,790


Foot: 90,740




Jammasized: 85,210
Brad: 81,080
Foot: 69,390
Pelly: 61,670
John73: 57,970
kane: 47,160
Fire_Power: 46,110
Dkong: 40,750
azathoth: 36,650
ED_209: 36,620
wingtipvortex: 29,860
Rat: 23,910
Eliminat3r: 17810