WINGTIPVORTEX loves planet hopping and killing alien scum, see why in
ROM NAME: Gyruss.zip

DIP SWITCHES: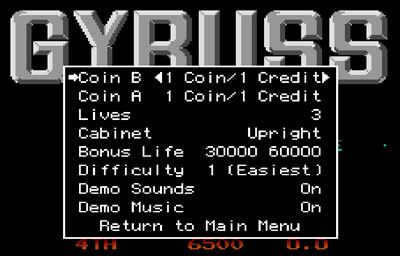 Manufacturer: Konami
Year: 1983


Orientation: Vertical

Type: Raster: Standard Resolution

CRT: Color
Number of Simultaneous Players: 1
Maximum number of Players: 2
Gameplay: Alternating
Control Panel Layout: Single Player
Controls:


Joystick: 8-way

Buttons: 1 [Fire]
Gyruss Description
A shoot-em-up through the Earth's solar system where the player's ship moves in a circular orbit around the outer edge of the screen while shooting at enemies in the center. The purpose of this game is to fly through the solar system and reach Earth. The other planets that have you travel to before Earth are Neptune, Uranus, Saturn, Jupiter, and Mars. It only takes two warps to arrive at Neptune, but all others including Earth take three warps to get to. Each time you reach a planet, there is a Challenge Stage where you try to destroy as many enemies as possible. After reaching Earth, there is a Challenge Stage followed by a very fast "three warps to Neptune" stage. After this, the levels and the background music start over.
Even more info if you need it @:
http://www.arcade-museum.com/game_de...p?game_id=8060
To qualify for MGL points you will need to have submitted a score by stating your score in the subject line of your message, and posting a screenshot in this thread. Submit scores as many times as you like, please post a
new message for each new score.
GYRUSS comp closes
7PM August 7th.
GOOD LUCK!
LEADER BOARD
Spartan: 643,900
John73: 638,650
Woody: 544,900
Foot: 426,900
DKong: 307,100
wongtoplatex: 280,200
Brad: 227,350
Jammasized: 220,550
Pelly: 207,450
Rat: 206,300
Fire_Power: 168,000
Azathoth: 163,100
AdamC: 139,750
Kane: 137,550
shabu: 100,600
Big Giant Head: 83,400
ED_209: 78,450