Hi Gamers,
Welcome to another exciting chapter of arcade gaming with
M
G
L
X
L
V
I
- N
e
o
n
A
r
c
a
d
e
. This is the FINAL tournament of the WORLD CHAMPIONSHIP OF ESPORTS for 2020. All gamers worldwide are welcome to game. You can also join in at any time.
Please watch the trailer below for the official tournament launch with important competition details

...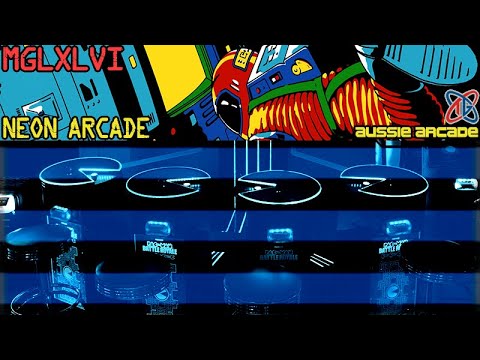 Competition:
The gamer with the most points in this tournament will be the MGLXLVI champion. There will be 10 games played over 8 weeks, competing world wide on the most challenging and toughest video games of all time. 2 games will be released at the start, then 1 game each week, except 2 games after week 3, with the final 2 games released at the same time for the finale. Games are only open for 17 days each, so gamers must play their best in that time and post their scores before the game is closed. At the end of each MGL, points will be accumulated for each gamer toward the World Championship of eSports Scoreboard. The highest score after the four MGLs are completed will be the undisputed World Champion of eSports for 2020.
Prizes:
Every gamer that plays all of the games has the chance to win the mystery prize. So if there are 10 games and you play and submit for all 10, then if you are drawn from the pool of qualifiers, then you will win all of the prizes. Whether you finish in the top half or the lower half in the tournament, you still have a chance to win. Prizes will be cash and/or arcade memorabilia. In MGLXLVI, the mystery prize will be
6 x mystery prizes
. If 75 or more different gamers play in this MGL, there will be 2 mystery prizes for 2 gamers, instead of 1 mystery prize for 1 gamer. If 150 or more different gamers play in this MGL, there will be 4 mystery prizes for 4 gamers.
Point system:
The incremental point system will be used for each game. 1st place will earn 100 points, 2nd place 99 points, 3rd place 98 points and so on. All gamers will earn competition points for their scores. If there is a tie on the overall scoreboard, then a head to head game win count will be used to determine the final placings. For example, if two players tie for 18th place in the world, then whoever has scored higher per game on a head to head basis will earn 18th place and the other gamer will earn 19th place. If there is a tie also on head to head game count, the gamer who has the highest accumulated game score points will be the winner.
Games:
Games are nominated by the competitors and sent by PM to the Gamemaster. Games must be selected from 1976 to 1990 and no trackball or steering wheel games are to be nominated. The number of games that can be nominated by each competitor in MGLXLVI is in the trailer. The games to be played in the competition will be randomly drawn from the pool of nominations. Only unique games will be in the pool, as duplications of nominations will not be placed in the pool. The order of game play will be determined by the Gamemaster and each game will be released weekly for competition.
If you would like to nominate games and have a say in what is played, please send them by private message (PM) to OOO by midnight Sydney time on Wednesday 25-Nov-20. The number of games you can nominate is in the trailer. The first two games will commence on Friday 27-Nov-20.
The following games are excluded from MGLXLVI and cannot be nominated: 1942, Bank Panic, Chicken Shift, City Connection, Cosmic Alien, Do! Run Run, Frog & Spiders, Galaxian, Gravitar, Indiana Jones ATTOD, Joust, Lock 'N Chase, Mappy, Moon Cresta, Moon Patrol, P47 - The Phantom Fighter, Pac-man Plus, Paperboy, Phoenix, Roc n Rope, Rolling Thunder, Satan's Hollow, Snap Jack, Space Firebird, Super Pang, SWAT, The Deep, The New Zealand Story, Thief, TMNT, Toobin, Triple Punch, Twin Cobra, Van Van Car, Vs. Dr. Mario, Yie Ar Kung-Fu and Zippy Race.
Settings:
The game settings will be posted in each game thread and gamers must ensure they compete on these settings only. No continues are allowed when submitting a score and must be played from the beginning of the game. No pausing allowed. No auto fire allowed. No stitching of inp files from save states. No cheats allowed.
The WolfMAME version 0.106 is highly recommended, however any later version can be used. Only the version 0.106 ROM set will be posted for each game and the equivalent for other MAME versions can be used.
Games can be played at the arcade. You must ensure the arcade operator has the game at the MGL game settings for the submission to be valid.
Submissions:
Gamers are to post a screenshot/photo showing their score with initials in the game thread. Games are only open for 17 days and any score submissions made after the game is closed by the Gamemaster will not be accepted. Scores at aussiearcade.com will be combined with scores from twingalaxies.com to form the world championship scoreboard.
Gamers:
Professional and casual gamers can play all or just some of the games.
Gamers do not need to nominate games to play, they can play any game during the tournament.
Streaming games and posting/sharing tips are encouraged, as is friendly banter in the gaming community. Striving for PBs, learning and playing the best you can are all highly encouraged. As all members at AA are registered, there is no additional registration process for the championships.
Good gaming and good luck to all competitors.
OOO