I've been working on this board for yonks and finally made some progress tonight.
Overview of the board:
Early 90's era Taito punching game which runs a dot matrix display. Some similar hardware to Taito System B. Full overview of the ICs, including board pictures and manuals etc below.
https://drive.google.com/drive/folde..._o?usp=sharing
As this game was undumped, I contributed the dump to the MAME team for preservation.
Repair Log - In Chronological order from top to bottom.
Original state of the machine...
Machine had DC power supply removed and the buttons on the top control panel unplugged.
Looks like the machine may have been exposed ot the elements at some time due to lack of back panel.
Some of the EPROM stickers were gone - concern that UV damage may have led to bit-rot."
First set of repairs...
Installed new DC power supply, step down transformer and AC line filter. Re-connected the buttons.
Machine powered on, with garbled video output and some lights flashing and motor movement. No sound. Machine then went dead. Symptoms would not repeat if the machine was re-started. I had to wait 24hours between re-starts to repeat the same garbled start-up.
Decided to try the MAME dump
Someone had beaten me to the punch in dumping and contributing to MAME, however I had a sneaking suspision that I had a different set.
Dumped ROMs to compare to MAME.
MAME Roms different by a small amount.
Burnt MAME roms and replaced factory set.
No joy - exact same issue as above.
Found some corrosion in the resistor packs...
RRCD1 and RRCD2 (chips labelled CDR-1E2B 2L) had corroded legs.
RRCD2 had to have legs resoldered on from another chip.
RRCD2 had corrosion repair via fiberglass pen.
No change in behaviour after repairs
Logic Probing and CPU replacement
#1
Logic probe testing found no output on many of the legs of the TMPZ84C00AP-6 at IC22 location.
Removed chip, added socket and replaced with a new TMPZ84C00AP-6.
Machine boots to nothing on the screen, no motor movement or lights - i.e. no sign of activity in the outputs. However, the TMPZ84C00AP-6 at IC22 now has some sort of logic output on all legs.
Replaced all of the SRAM
Removed all lh5168d-10l (SRAM) chips in all three locations on the PCB. (IC19, 20 & 28)
Accidently lifted pin 24 on the lh5168d-10l at IC19 location.
Tracked the damaged trace to the EPROM 27C512 at IC14 location. Believe to be also be connected to 24 on the 27C512 also so made a patch repair on the underside of the PCB.
Replaced all lh5168d-10l SRAM chips into the sockets.
No action at all
Replaced anopther CPU
Removed the existing tmpz84c30ap-6, socketed and replaced with a new chip. Lifted a trace on pin 12 so had to run a repair.
Game now boots and appears to run as per normal except for lines in the display. Suspect that this may be related to a bad connection elsewhere.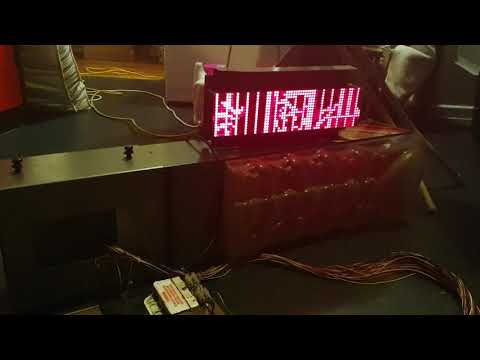 Next I need to track down the bad graphics issue. I have a suspicion that the lifted track between pin 24 of the 27C512 and pin 24 of the SRAM (lh5168d-10l) may be related. I took a punt in repairing this trace. Does it seem odd that the pin 24 of the EPROM and pin 24 on the SRAM are address lines tied together?