My component tester can test most Op Amps but the LM3900 is a Norton Op Amp which work differently to most OP Amps and it's unable to test them.
I remove a lot of LM3900's from Space Invaders boards and I wanted a way to test them without having to put them in a Spacies PCB, fit a test ROM and go through the sound tests. If I do this repeatedly it can cause issues with the sockets.
I had a look through a
Linear IC databook
and found a circuit that uses all four Op Amps on an LM3900.
I've used a 28 pin ZIF socket that I had on hand and the output connects to an oscilloscope to check that it's putting out the correct waveform.
I knocked a PCB up on Vero board.
Here's the result with a good LM3900.
I'm not sure if I got the component values right as the PDF scan isn't 100% clear but it seems to work well enough (though not the correct waveform) to check all four Op Amps on the chip are working.
I may do another one using a Squarewave Generator and repeat the circuit 4 times which will allow testing the four individual outputs separately.
Same as this guy has done...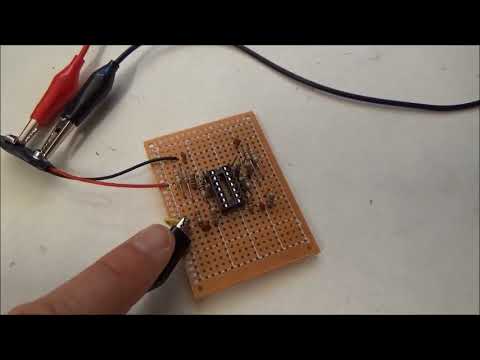 Edit
: I looked up the same schematic from another source and which is clearer and I should have used a 100pF cap instead of 100uF. Will see if I can find one on a parts board and swap it out.